Messenger
The tiltrotor Bell/Boeing V22 Osprey is a fantastic aircraft, it takes off with its rotors in heli mode, then accelerates, tilting its rotors forward until its flying as a turboprop plane on just its wings. This gives it 2 or 3 times the speed and range of ordinary helicopters. The penalty is hugely complex transmissions hidden in the wings and all that weight of the rotors and engines at the wing tips.
The Dream
My dream back in 2004 was to bring all that machinery together in the fuselage, nice and compact, tilt the rotors back as a pusher prop plane, easy! This is the way it was, and still is, supposed to work...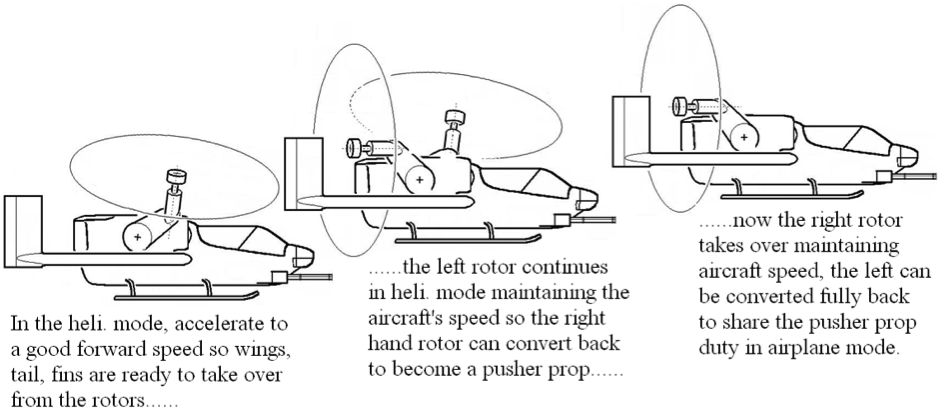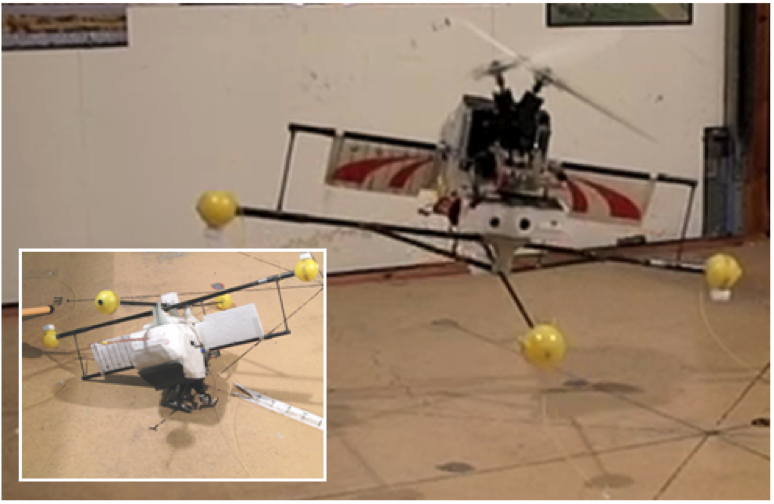 First Steps
So into the garage, clear some space, start knocking stuff together. Whisk I, and Whisk II were just static mock-ups, named Whisk because they used the innards of an electric food mixer. Whisk III used proper RC components and a lot of balsa, took off and shattered into a collection of splinters. Whisk IV became more and more robust after each disaster. But I couldn't get it to hover, even with tethers it was hopeless.
Help Required
For Whisk V the collective-only rotor heads (just Raptor tail rotors) were modified by adding homemade, compact fly bars, small enough not clash with the meshing rotors. Seems much better but I can't get it to hover... come to think of it I couldn't hover a proper RC helicopter.
Time to go to the professionals: so in the spring of 2010 somewhat nervously I took Whisk V to PHSF, me for a campaign of lessons learning to hover the school's Raptor 30s, and Whisk V to be checked out and flight tested.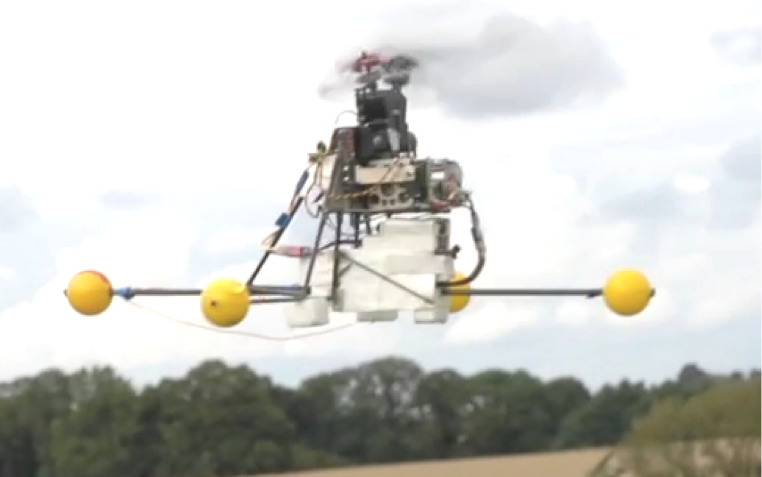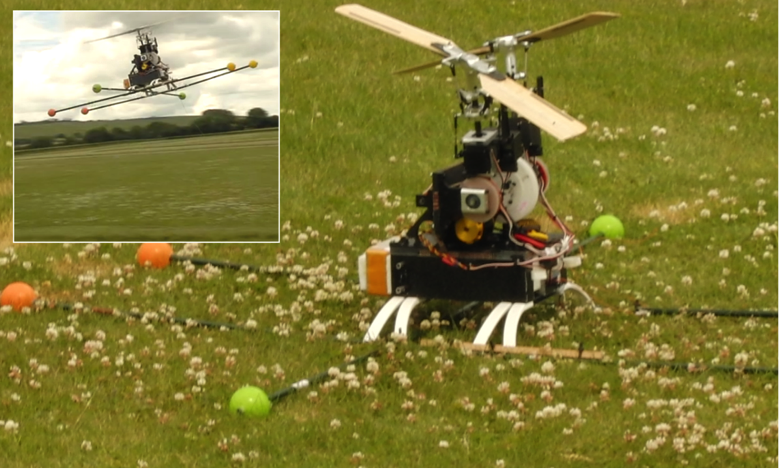 Advice Given
Paul masters Whisk from the first but after a number of sessions to trim and get the best out of it, advises that this collective-pitch-only design was marginal at best.
So back to the garage (now a reasonable workshop) for a complete rethink, the result is Messenger: and test flying restarts in May 2011. This frame shows the full cyclic head on each mast, no fly bars, and 42cm blades.
Success(-ish)
To my eyes Messenger flies beautifully, but after many mods and test flying sessions, Paul chews over the problem and advises me to increase the blade size to get some decent control authority where its needed.
So I fit 55cm blades. Paul is right, at last it flies like a proper helicopter. Absolutely brilliant. And just as good with wings on as well.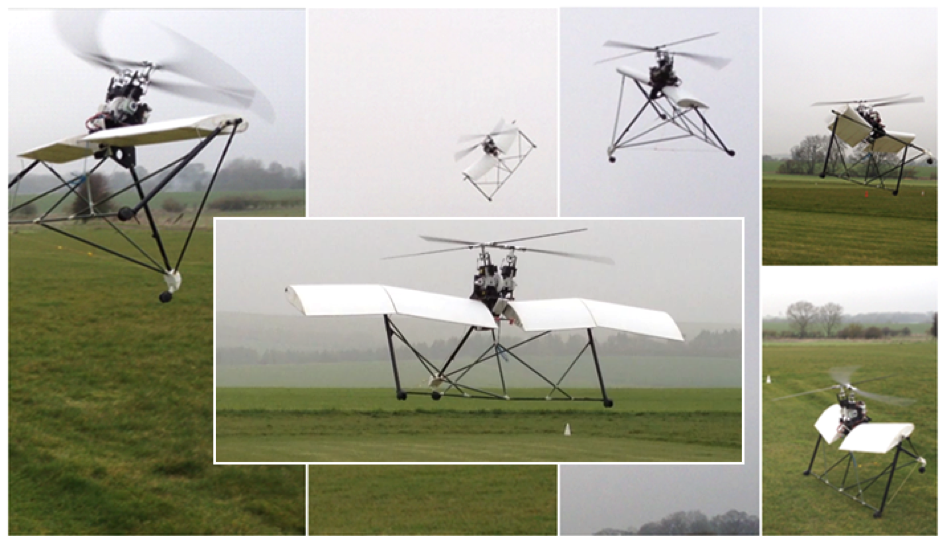 Functional, not Beautiful
Over the winter and into Spring 2012 Messenger proves robust and able to handle a range of wings with its ungainly temporary undercarriage that eventually should allow take-off just in the pusher-prop plane mode...
A Pause
Test flying stopped until beginning of 2013 when Messenger II emerged, with its mechanics much slimmer, and in May for an international conference for full size rotorcraft (AHS Forum 69, in Phoenix, Arizona) it was kitted out to look as close to the "dream" as possible: here I am at my booth in the huge exhibition hall extolling its hoped for virtues...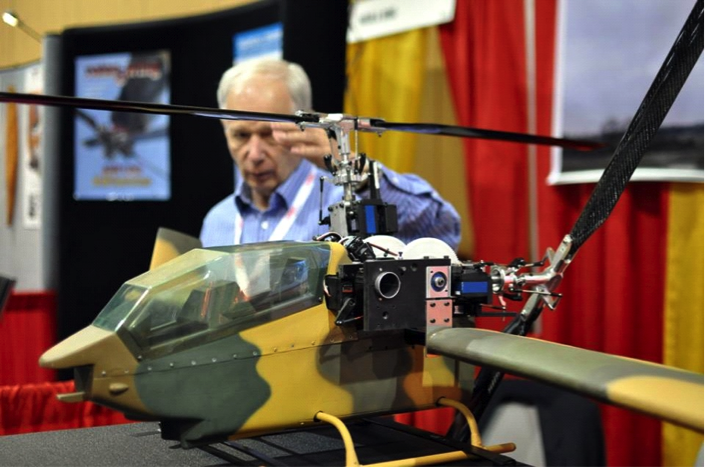 Thanks
Thanks Paul, always wondered what test pilots did!
Related items
The Flight Centre offers a complete or part build service, whether you require building, covering or installation we can provide a service for you.
No matter what discipline you fly, it is most important to have the aircraft set up correctly, which starts with a good mechanical set-up, followed by an electronic set-up.
Using proven technology and exclusively developed training methods we make sure you take the shortest, safest most enjoyable route to achieve your goals.
About Us
Paul Heckles School of Flying became the Flight Centre in 2013 through a realisation that model training was only a small part of the services offered. Set in the beautiful Wiltshire countryside the centre offers all types of training on both fixed and rotary wing aircraft.
As well as individually tailored training the centre explains theory, offers a professional build / repair service and technical model setup.
Our Contacts
Draycot Farm Aerodrome
Near Chiseldon
Swindon, Wiltshire SN4 0HX