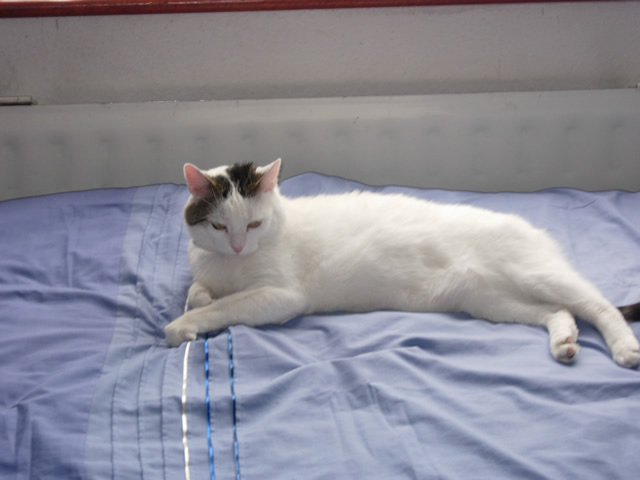 Sammy
Sammy is a male cat who joined us on 22nd June, 2008. He's had a bit of a funny start to life as he started out being rescued, only to end up spending over a year in someone's bedroom because he was too boisterous for their other (elderly) cats. I can vouch for the amount of energy this cat has!
We went over to Wales to fetch him. It's a round trip of around 290 miles but, being Wales, there are only two major roads and they're not all that 'major', so the trip takes 3.5 hours. It can be real fun spending 3.5 hours in a car with a frightened cat that doesn't want to be there.
We got him home and let him out of the cage and he immediately dashed up stairs to my room (where Gizzie spent most of her life) and made himself at home. Have to say, I never expected to get another cat that wanted to spend time in the bedroom with me, so that was a nice surprise.
He's a very affectionate cat - especially at 4 in the morning - and very playful. He was two years old when we first had him, but I suspect that he hadn't really had a chance to be a kitten, so he made up for it once he had people to play with.
Strange thing... he's got a tabby cat tail. He's mostly white but has a perfect tabby cat tail. Its very strange to look at and a little disconcerting, given that Gizzie was a tabby.